2022 OVERLAND EXPO WEST
We made our way back to Flagstaff, Arizona, to attend the 2022 Overland Expo West event. Our team was on site with the Double-Duty F-150 build on display, as well as our friend Down2Mob Overland's epic new Jeep Gladiator build. We had a great time talking with customers and hearing about their adventures hauling with Hellwig Products.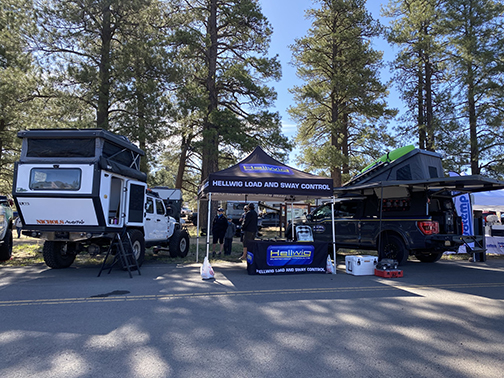 The Double-Duty has been making the rounds to various off-roading events and came from the red rocks of Moab's Easter Jeep Safari to make the pilgrimage to everyone's favorite overland event. It was excellent to see a huge turnout this year at Overland Expo West, with more than 28,000 attendees from around the world. Over 410 classes, seminars, demos, activities, slideshows and films totaling over 634 hours of instruction helped spread education on the overland segment as a whole.
In addition to the Double-Duty, Down2Mob Overland's Hellwig-equipped Jeep Gladiator was turning heads in our booth, thanks to his all-new Bison Overland camper. Be sure to subscribe to his YouTube channel to check out video updates.
We have enjoyed being part of Overland Expo West and its efforts to uplift the overlanding community and provide education to new and experienced overlanders.
See you there next year!
MORE CONTENT
---